Brushy Branch Brangus Ranch - Breeders of Brangus/Angus cross cattle
"HEALTHY HABITAT FOR HAY"
In the deep, rich black soils of Caldwell County, Texas, We grow Good, Clean, and Nutritious HAY!
Tested for protein content, digestibility, & palatability, our Coastal and other hybrid Bermuda grasses are available in round and square bales. Choose square bales for convenience and easier handling or round bales for greater economy.
This valuable animal feed is protected by being promptly removed from the fields and by storage of the square bales in a metal hay barn on our main ranch. The round bales are NET wrapped for better protection from weathering and for safer transport to your ranch operation.  The John Deere net wrap uses the patented "cover edge" method to better protect from moisture seepage even when tightly stacked in outdoor rows.
QUALITY OF OUR HAY PRODUCT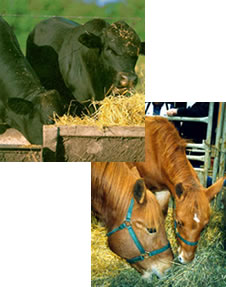 We know how important it is to produce hay with a minimum of noxious weeds. The economy of purchasing your animal feed is much better when "you get GRASS and not TRASH" in your final bales.  When our forage production improves by controlling weeds, it allows us to harvest greater tonnage of "usable" grass - thereby our efficiency increases and allows more economy in the final pricing of a higher "quality" product. This improved quality should be evident to you the rancher when you see a CLEANER hay with higher FOOD VALUE.
How can any hay producer control competition from weeds and get a relatively pure stand of grass from each cutting???
Start with good soil and proven grass varieties like TIFTON 85, JIGGS, and other improved Bermuda grasses and the proven performer COASTAL Bermuda grass.
Even our deep, rich soils produce more vigorously with careful application of Nitrogen fertilizers and Poultry Litter to enhance the soil condition, moisture holding capacity, and available nitrogen and minerals.
Timely Harvest is important to capture the highest levels of food value. It is tempting to some growers to wait past optimum maturity just to add a few more tons to the cut. This is an overlooked point by some buyers when evaluating their hay choices. Admittedly, weather conditions and water availability greatly affect the timing of our harvesting, but pro-active planning helps. Such as, having all our men and equipment ready to roll when the grass maturity and weather are ready.
PURCHASES
Call Brushy Branch Ranch in Caldwell County, Texas today for early orders or whenever you need the hay. We have made contacts with distant growers who also value Quality hay. This allows us to fill your orders even during most drought conditions.
DELIVERY
Delivery can usually be arranged with local haulers for larger orders.
OUR RANCH
Our ranch is located in South Central Texas on the edge of Lockhart, Caldwell County. This county is blessed with deep rich soils and temporate weather. The central part of our ranch is family owned and operated since 1976. At the present time, our owned hay pastures are now increased by leased acreage, all in the immediate area.
MEMBERSHIPS
We belong to the TSCRA-Texas and Southwestern Cattle Raisers Assoc., Independent Cattleman's Association of Texas, and Lockhart, Texas Chamber of Commerce.